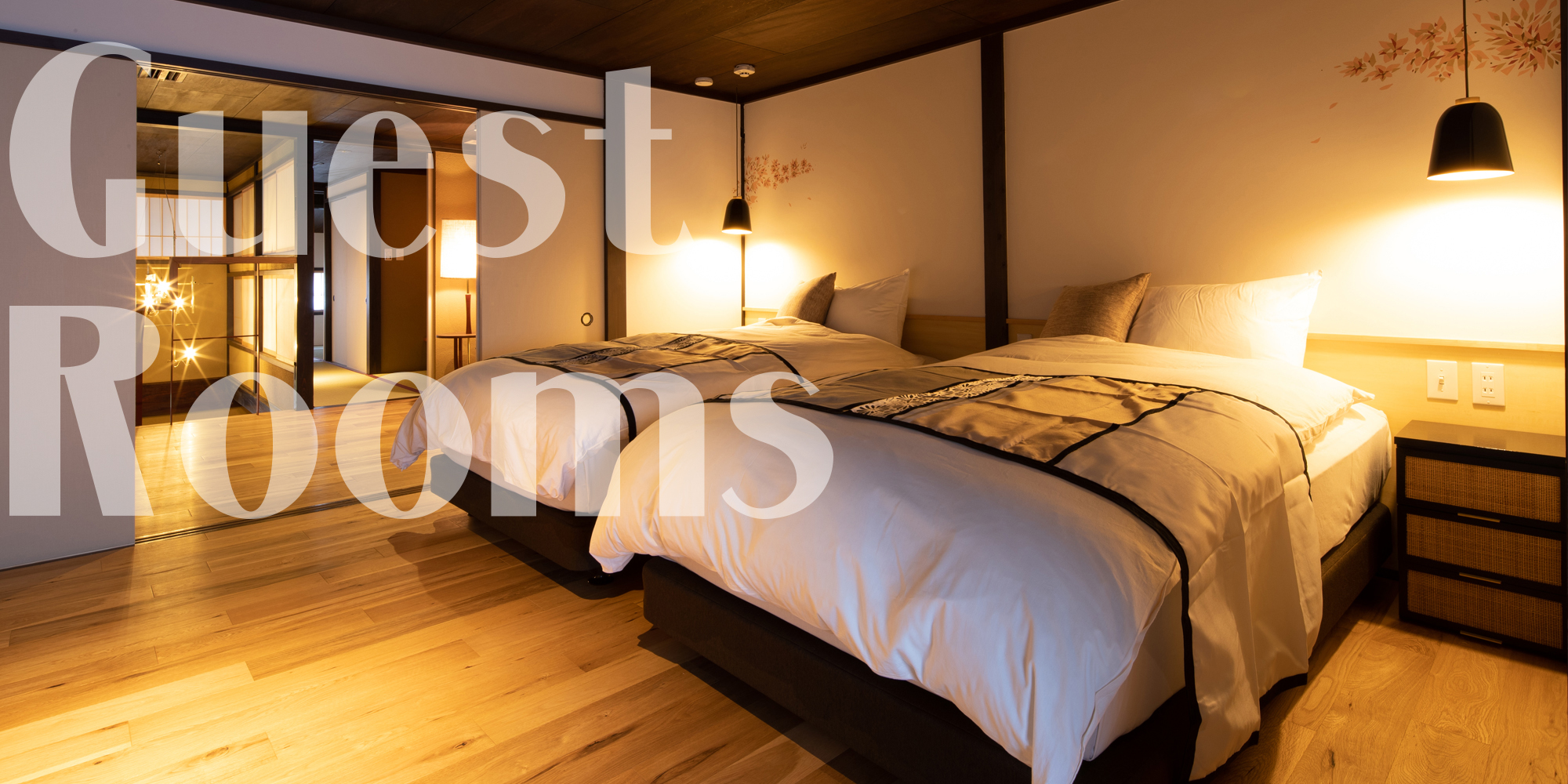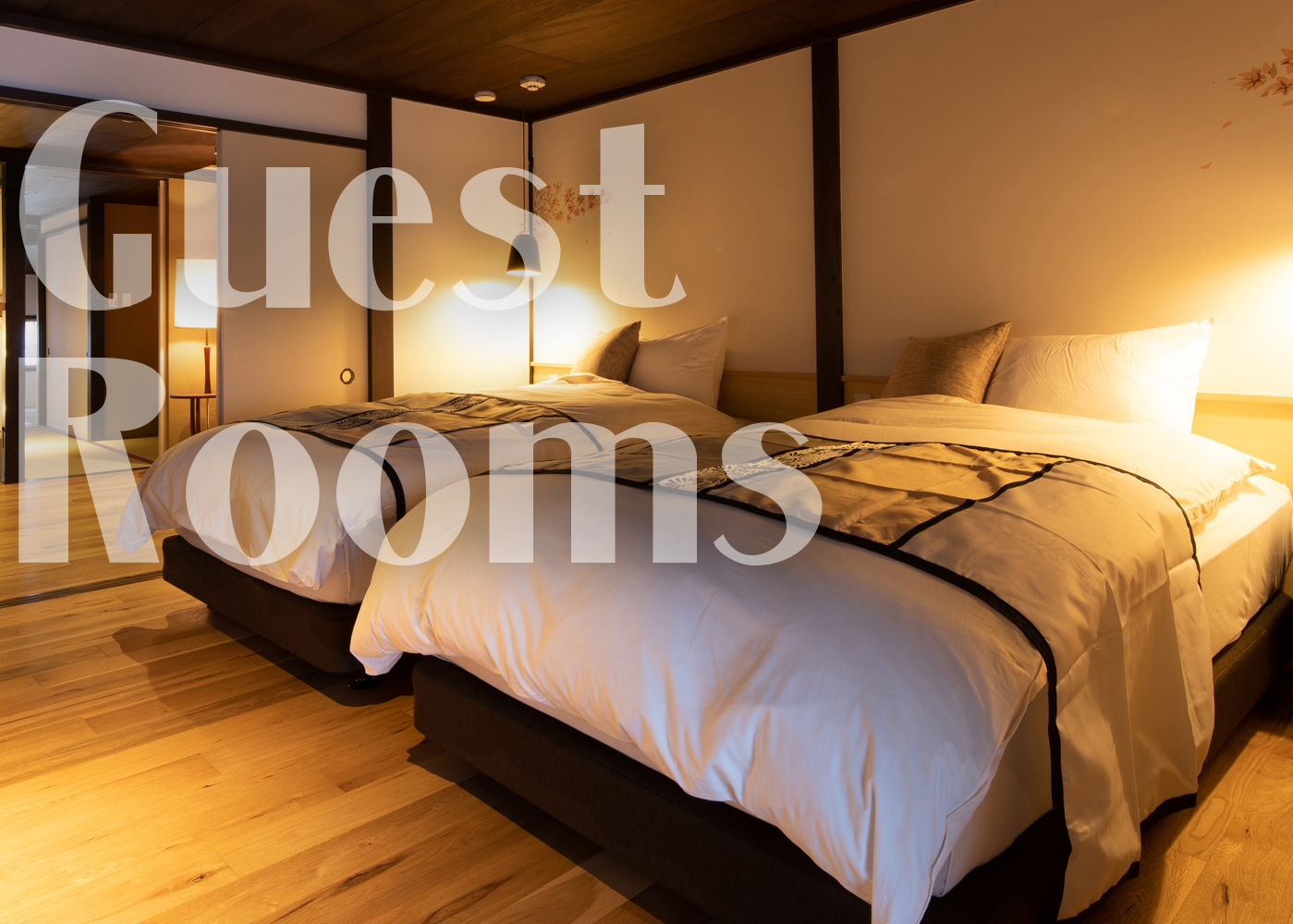 Renovations Focusing on Old but New Design
Our renovations focused on restoring the luster of these townhouses, lost in the course of mid-20th century remodeling. The exteriors revive traditional designs, while the interiors feature an integration of modern design and craftsmanship. Though the buildings are at least a century old, our goal was to create clean, comfortable spaces.
"Hachi" was designed as something of a hideaway, despite its street-corner location. Passing through the bar space to the back, you will find a brass door giving off a strange light. Beyond the door lies "Hachi" (meaning "Room 8"). This is an extraordinary, dimly-lit space where guests can enjoy the soft light coming in from the courtyard garden.
| | |
| --- | --- |
| Maximum occupancy | 8 guests (four semidouble beds, four single futon) |
| Size | 135 square meters |
1F

2F

"Tsuki" brings together a variety of colors and materials for the guest's enjoyment. Within the space are hidden two moons--find both of them and you'll surely find happiness as well! Recommended for couples, "Tsuki" offers the perfect atmosphere for a romantic getaway.
| | |
| --- | --- |
| Maximum occupancy | 4 guests (two semidouble beds, two single futon) |
| Size | 105 square meters |
1F

2F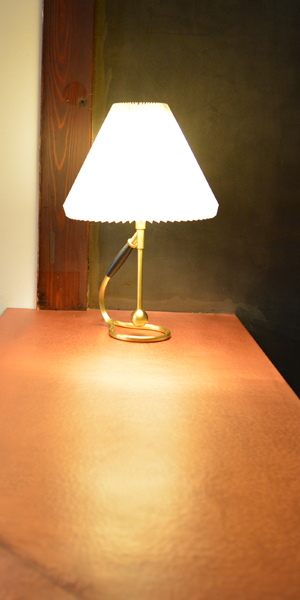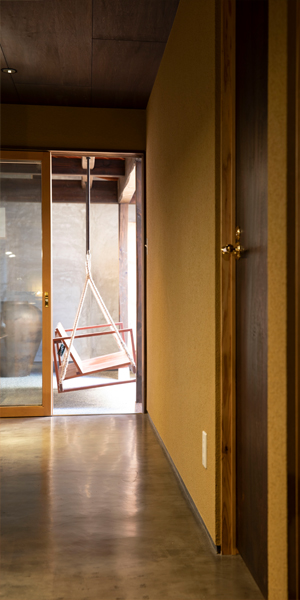 Design Features
While our spaces appear designed around classic Japanese traditional architecture, they feature techniques that are not only regional and unique, but also new materials and concepts. They have been designed to ensure the time you spend with us is both tranquil and stimulating.
<Interior materials>
In addition to reusing existing materials, our renovations have focused whenever possible on using natural materials that will acquire their own flavor and character with the passage of time. This is why some surfaces may be scratched, slightly damaged or discolored, though we do take care to maintain all surfaces in good sanitary condition. We appreciate your understanding.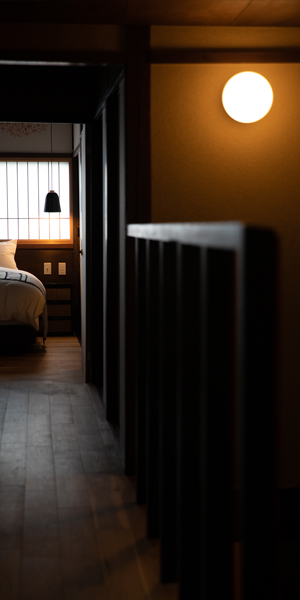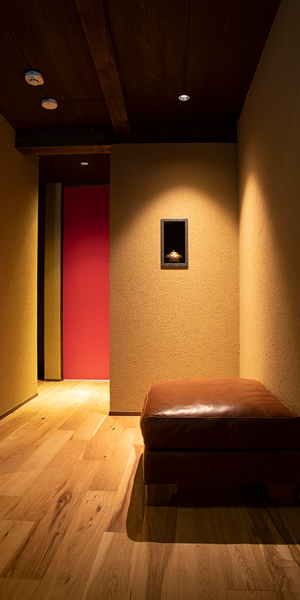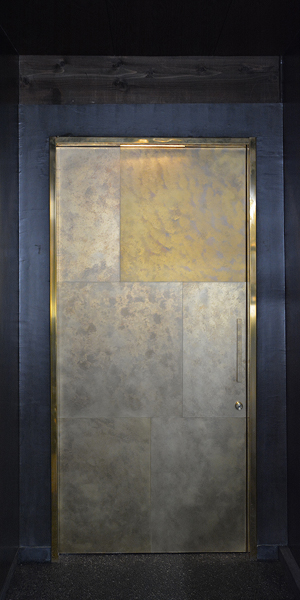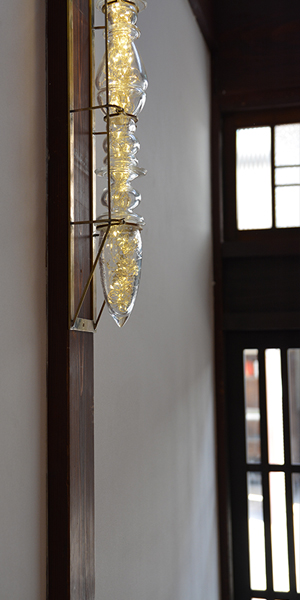 ---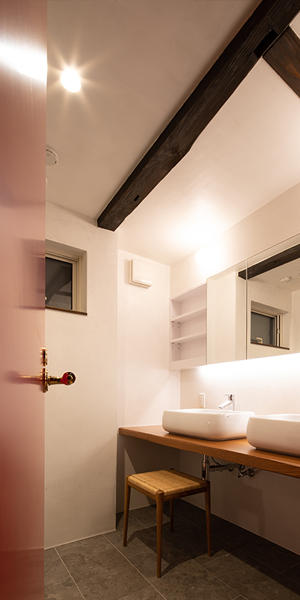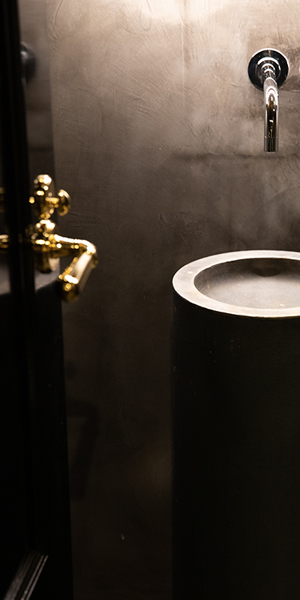 Facility
Our beds feature the same Sealy mattresses as offered by first-class hotels. Interiors include furnishings that highlight the use of natural wood and brass along with tiled bathrooms and other authentic touches, and we are fully equipped to ensure our guests can enjoy a pleasant stay.
Air conditioner/hot water heater/toilet with Washlet-equipped seat/vanity/hair dryer/kitchen with induction cooktop/refrigerator/microwave/electric kettle/portable TV/dining table and chairs/bed with coil spring mattress/night stand/clothes rack/smart lock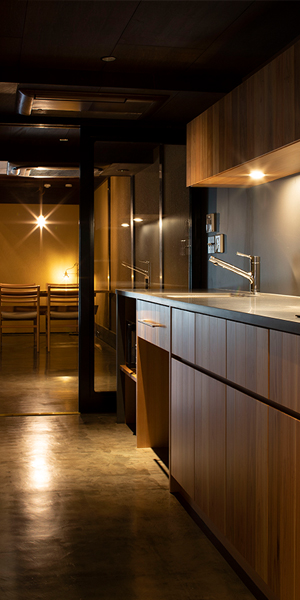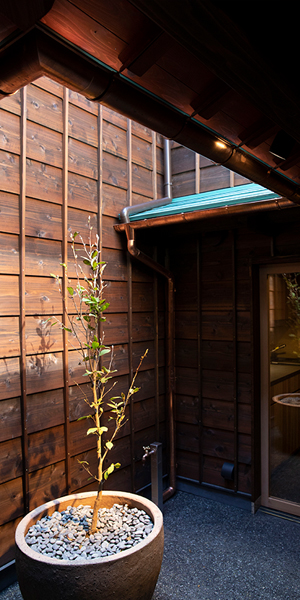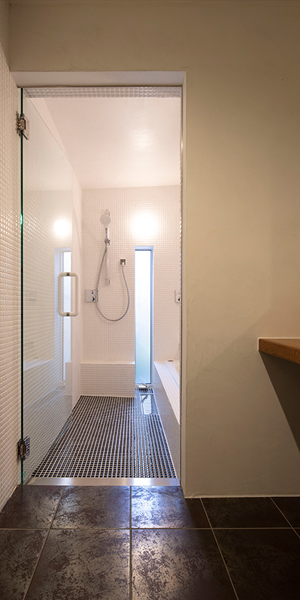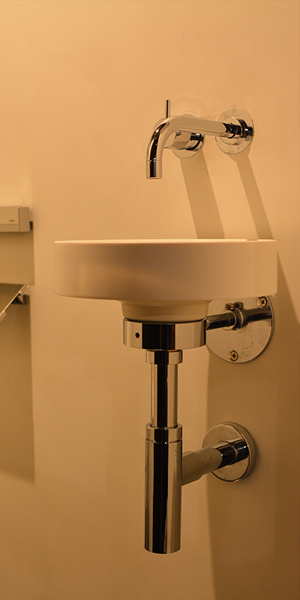 ---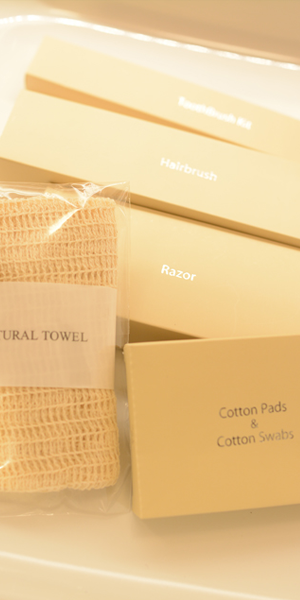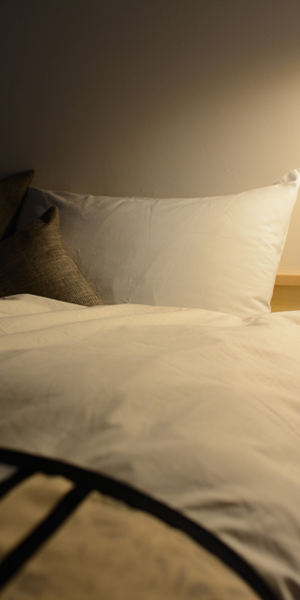 Amenities
We have worked to incorporate organics into the amenities we offer, including body-friendly soaps, towels and toothbrushes. The pajamas we provide are carefully selected for both material and design, assuring guests of an uncompromisingly comfortable fit and feel.
Shampoo/conditioner/body soap/hand soap/toothbrush/hair brush/cotton swabs/razor/hand towel/bath towel/pajamas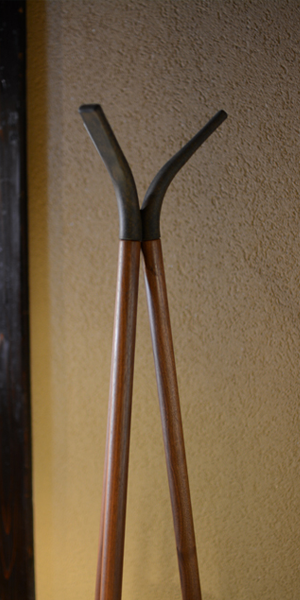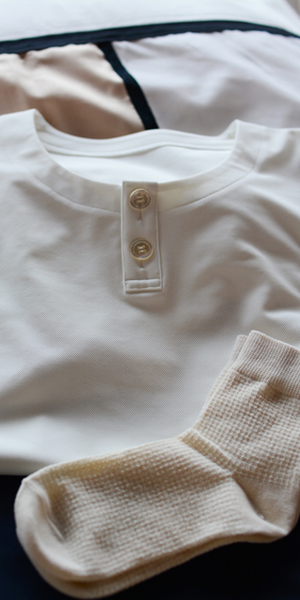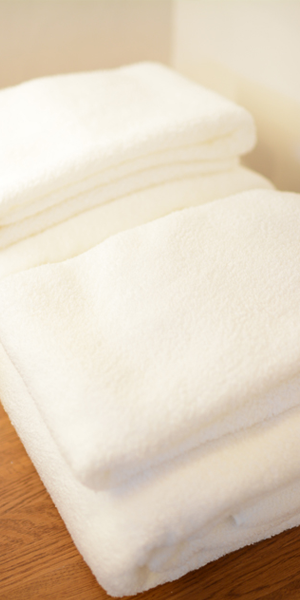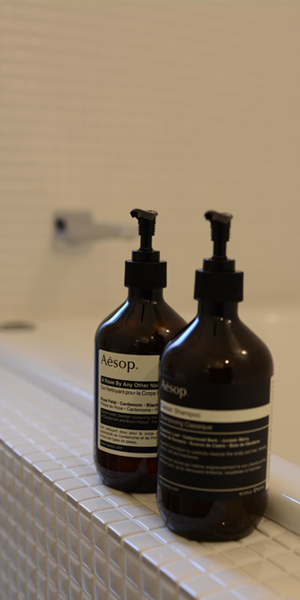 ---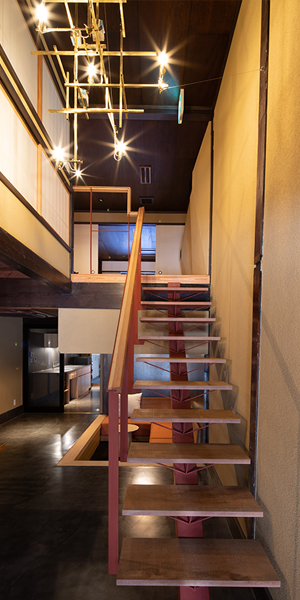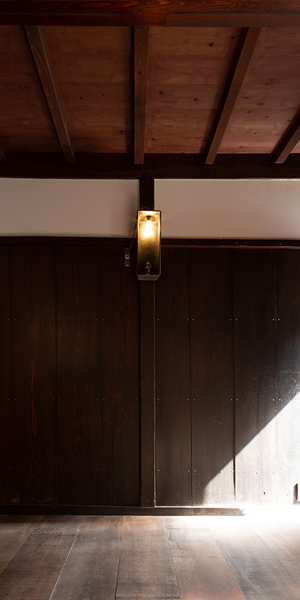 Others
Previously remodeled using modern materials, our buildings have been returned to their traditional design featuring latticework facades. The interiors, meanwhile, showcase the playful side of the artists and craftspeople who worked on them in an effort to stimulate our guests' senses.
<Enjoying Your Stay at Kane no Sanzun>
Our spaces are intentionally kept dim, with atmospheric lighting throughout. They are designed to allow guests to enjoy the artistic play of shadow and light, and the craftwork that makes use of a variety of materials.