We are pleased to announce a new initiative of the Minka Hotel "Kinnosansun".
One of the concepts of "Kinnosansun" (hereafter referred to as "the hotel") is to "let people stay at the hotel and feel the craftsmanship".
Until now, most of the products used in the hotel have been from Kisendo and KISEN, brands produced by Yotsukawa Seisakusho, a supporting company of the hotel. We will also be introducing other brands' products in our hotel for a period of time. We will strive to make our hotel a place where companies that make wonderful products and their products can be introduced to the public.
This time, we would like to introduce Takaoka Lacquerware. The town of Kanaya in Takaoka City has developed as a casting town, but in addition to Takaoka copperware, there are other traditional crafts in Takaoka. One of them is Takaoka lacquerware.
Takaoka lacquerware is a general term for lacquerware made in Takaoka City, Toyama Prefecture, and is characterized by a wide range of styles represented by three techniques: "Aogai-nuri," "Yusuke-nuri," and "Kakko-nuri.
The history of lacquerware dates back to 1609, when Maeda Toshinaga, the first lord of the Kaga Domain, built Takaoka Castle and had household items such as armory, chests, and tables made. Later, the techniques of Tsuishu and Tsuiboku were introduced from China, and techniques such as carving, mother-of-pearl inlays, and rust painting were invented.
In the middle of the Edo period, "kokko-nuri" was invented, in which patterns of flowers and grass were carved out of wood carved with lacquer coated in vermilion and black, overlaid with lightning patterns and tortoiseshell ground patterns.
The most distinctive feature of Takaoka lacquerware is "Aogai-nuri" (blue shell lacquer). This is a technique known as raden (mother-of-pearl inlay), in which the shiny parts of abalones and other shellfish are thinly shaved to express flowers, birds, and landscapes (the thinness is usually only 0.1 mm). (The thickness is usually said to be 0.3 mm.) Takaoka uses a 0.1 mm-thick piece. This allows the color of the underlying lacquer to shine through and appear blue. This is said to be the best feature of Takaoka lacquerware.
Lacquerware is very familiar to Japanese people. This is evident in the fact that lacquerware is produced all over Japan. Lacquerware was an indispensable part of the lifestyle of the time, and was commonly used in daily life or on special occasions. As research into materials and paints progressed, and new materials were developed that were easier to use, lacquerware gradually disappeared from people's lifestyles, becoming a traditional craft that is handed down from generation to generation. Through this exhibition, we hope that people will experience lacquerware in their daily lives and become aware of the benefits of living with lacquerware.
On behalf of Takaoka Lacquerware, we have lined up Amano Lacquerware's products.
Amano Lacquerware Co.
 Address : 245 Namioka, Takaoka City, Toyama Prefecture, Japan
 Web site : http://www.amanoshikki.com/
 TEL : 0766-23-2157
 Rep: AMANO Shinichi
 Long-established lacquerware manufacturer representing Takaoka City
 They are dedicated to making products that meet the needs of modern life by utilizing the traditional techniques of "Takaoka Lacquerware" that they have cultivated since their establishment in 1892.
He is dedicated to making products that meet modern lifestyles by utilizing the traditional techniques of Takaoka lacquerware. Recently, he launched the Raden Glass brand, which utilizes lacquer and mother-of-pearl inlays, and the Den brand, which produces mugs, dishes, and other household items.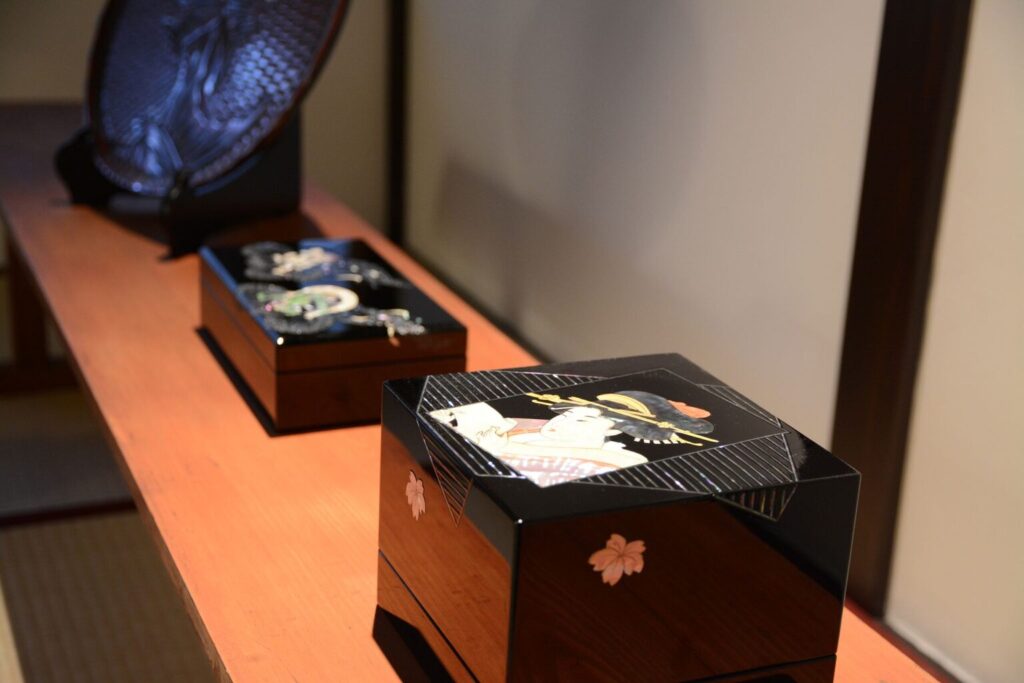 Room "Eight"
   Decorative tray, carved with two sea breams 180,000 yen
      W39.8 D32.5 H2cm
      Wood, Cinnabar lacquer
   Decorative box with drawer, peony (with shell), 300,000 yen
      W25 D17 H24.5cm   
Room "Moon"
   Decorative Box, beautiful figures (with shells), 500,000 yen
      W16.7 D16.7 H12.4cm
      Wood, lacquered
   Long Rectangular Small Box, Wind God and Thunder God 80,000 yen
      W22.2 Ð13.2 H7cm
      Wooden, lacquered Lacquer painting